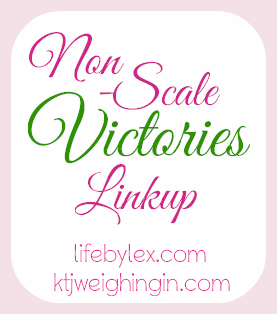 I love this!
I forgot about the importance of non-scale victories since weight watchers. I love this idea! I feel like all I do is beat myself up over the times when I indulge too much or don't make the best choices. There are plenty of things I should remember to pat myself on the back for, and I need that to realize I'm on the right path.
Here are a few:
By blogging I have realized that, although I give in to temptation every now and then, my meals and portions have actually been pretty great. The portion size is the key for me. I've been keeping them to the size that I give my hungry (almost) 2-year-old. I think if I make sure to fit in the healthy snacks, I'll do much better.
I have been trying to keep up with 2YO's activity level. I run and play more with him and I'm making sure to get both kiddos outside each day for a stroller ride.
Nighttime snacking has been cut out! That used to be my biggest weakness, I couldn't relax in bed after I got the kids down, without getting my chocolate fix. I think this is also aided by blogging since I tend to do it at the end of the day. Let me tell you, it would have to be a pretty strong craving to give in to while I'm tracking my progress for the day!
Not too shabby!
I love comments and could really use some friends and support so don't be shy!