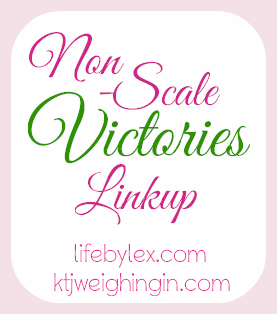 Thank goodness for this! Things have definitely not been so great on the food front and the scale has been going nowhere fast. I almost thought I didn't even have any non-scale victories to report.
That's what's so great about about this linkup! It makes you think about your week and realize it's really hard to break these habits that got us to this point, but even when we're feeling discouraged there is something we can find to be proud of. It's so easy to get down on ourselves and let that completely wreck our week, but this helps to think of the little changes that are getting us to our goal.
Even if my eating wasn't where it should be, I started some good activity this week! I did C25K four days in a row while at the cabin! It was so nice out and I dragged my but out to the road and felt so good when I was done.
I guess I'm "resting" now that I'm home because look at this!
Seriously!?! I actually got a bit of a sunburn on Saturday and now we're back to frostbite? Look at the poor little flowers, I feel like I'm in Oz in the Poppy field!
So, we're back to keeping indoors. Not to worry! Tiny Twisters gymnastics is today! 2YO and I will do plenty of running and jumping to get that energy out! I also got together with a friend of mine who is a personal trainer and will help get together some backyard workout for me and the other ladies I round up!
Now if I could just curb the impulsive eating habits, we'd be in good shape! Literally! :)