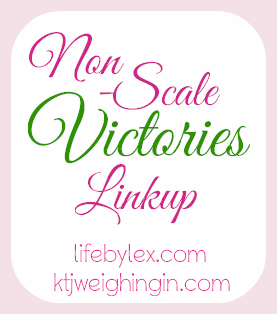 Ugh...
I'll have to think pretty hard about this one... I haven't done too well this week and I'm heading to the cabin tomorrow. If you follow my story at all, you know that place is the devil for my weight loss. However, I am committed to getting out for my C25K each day and my cousins and I are going to fit in some workouts.
Back to my NSV...
I guess, although I have reverted back to my chips and chocolate, I have stuck to my goal of blogging each night. I also feel like my meals and portions have not been terrible.
That's a really weak NSV.
Oh! Here's a good one. All 3 pairs of my big jeans that I broke down and bought after Baby, when it became apparent it was that or my maternity pants, are loose. Now, I believe some of that is the pants stretching, but the snuggest pair that didn't seem like it would stretch too much is also looser.
There! That's a good one!
Good luck to everyone else with your NSVs!!!