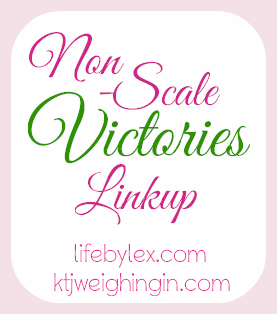 I'm going to resist the urge to list all the things I did this week that were definitely not victories and only focus on the good!
We went to a Chinese Buffet for Mother's Day. Oh no... Huh? I am proud to say that, although I ate all the things I love, I ate less because I made a trip to the salad bar first! This is unheard of for me - I love a good salad, but I usually never "waste" my time when there are so many other yummy things to chose from!
I did some major twisting of my ankle over the weekend and I could have stopping my C25K or backyard workout, but I didn't. I did the best I could on C25K and didn't lie to myself - I ended early and ended the workout. So, I'll have to do it again when I could have probably moved on to Week4.
I'm also pretty proud that I didn't succumb to snacking while the kids were gone yesterday and I made one
yummy
dinner!
What are your non-scale victories for the week?