Boy, I was having a hard time with easting this past week! I was really struggling with nighttime snacking and constantly craving snack foods. I am happy to say I pushed through it this week and have been committed to brushing my teeth with my kiddo at 8:00.
My other big NSV...
I'll be completing my first-ever 5K at the Lupus Walk for Hope and 5K! Now, I've only run a tiny bit over 1 mile straight, but who says I have to run the whole thing? I'm going to give it my best shot and see how far I can go. I committed to this idea nearly 6 months ago and I finally registered today.
We have a team - 'Nix Lupus' - in honor of my amazing cousin, Nickie, who was diagnosed with Lupus within the past year, possibly two. She is a 22-year-old woman with the most infectious bubbly and funny personality ever. It is so hard to see her act as if everything is alright, when we know that she is in constant pain.
A little blurb from the
Lupus Foundation of Minnesota
about the disease:
Lupus is a chronic autoimmune disease where the immune system turns against parts of the body it's designed to protect. This leads to inflammation and can affect many different body systems, including joints, blood cells and organs.
I am so happy to spread awareness about this disease that I knew nothing about until a couple short years ago, and to raise money to help find a cure. This is why I was so excited to run into an opportunity to design a t-shirt to raise awareness and money for Lupus.
I came across a company called TeeSpring. They offer anyone the opportunity to create a campaign, by designing a t-shirt to sell, to raise money for themselves or a particular cause. No money is needed upfront, and the shirt only goes to print once a specified goal is reached. I have placed a goal of 50 shirts on my campaign. I believe that would only give the Lupus Foundation of Minnesota around $200, so I would definitely like to sell more! The campaign is only 3 weeks long, though, so I don't have much time!
Here's the design. I found this quote on Pinterest and thought it completely represented my cousin specifically, as well as all the women and men dealing with this disease.
Now I just have to spread the word and get this baby sold.
So here is my plea. Help me spread the word!! The saying makes it the perfect workout tee, or you could fashion it into a tank - imagine the possibilities!
I feel like so little is known about Lupus and the effect it has on those whose lives are touched by it. Imagine your own immune system attacking itself and having pain in your joints or constantly ending up with fluid in your lungs...(or any of the other symptoms involved). We need to get some help and some answers.
I would be so grateful to anyone who could spread this message around via their blog, social media, or what have you.
Here is the link to the
Nix Lupus T-Shirt
and the
Nix Lupus team
for donations.
Thank you!!!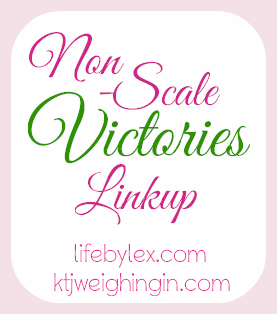 **TeeSpring was nice enough to offer me this campaign (for my other blog space
Exploring Domesticity
,
after
I had already decided to set up a design to raise some money, all opinions are my own, made up prior to compensation**